Tube bender control cabinet
Macri Italia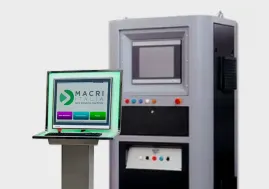 Macri Italia tube bender control cabinet
Quadro elettrico con computer industriale e software all'avanguardia e di facile gestione per macchine curvatubi elettriche Macri Italia.
Macri Italia tube bender control cabinet
All Macri Italia tube benders are operated by an electric information system that can be managed by means of a control cabinet located next to each machine.

The touch-screen monitor and exclusive software make this technologically avant-garde and easy to manage solution the unique selling point of the Macri Italia offering.
3/5/6 Axes Control Cabinet Features
Ergonomic control cabinet with front panel and 19" touch-screen monitor
Compact industrial computer
80 Gb hard disk
Integrated Ethernet network
3 serial ports
3 USB ports - 1 at the front
Multilingual last-generation operating system
Keyboard and mouse.
1 Axis Control Cabinet Features
Air-conditioned control cabinet
Small back-lit display
200-program memory capacity