Tube bender control cabinet
Macri Italia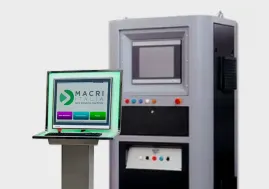 Macri Italia tube bender control cabinet
Quadro elettrico con computer industriale e software all'avanguardia e di facile gestione per macchine curvatubi elettriche Macri Italia.
Macri Italia tube bender control cabinet
All Macri Italia tube benders are operated by a information system in real time and managed through a control cabinet placed next to each machine.

The touch-screen monitor and exclusive software make this technologically avant-garde and easy to manage solution the unique selling point of the Macri Italia offering.
3/5/6 Axes Control Cabinet Features
Ergonomic control cabinet with front panel and 19" touch-screen monitor
Compact industrial computer
80 Gb hard disk
Integrated Ethernet network
3 serial ports
3 USB ports - 1 at the front
Multilingual last-generation operating system
Keyboard and mouse.
1 Axis Control Cabinet Features
Air-conditioned control cabinet
Small back-lit display
200-program memory capacity