Data
EURO 45 CN1
Tube bending machine EURO 45 CN1
The EURO 45 CN1 (Series 45) is a 1 axis (Y) tube for bending stainless steel, iron, copper or brass tubes or tubes in other special alloys up to 45 mm in diameter. The EURO 45 CN1 model features automatic bending and manual advancement and rotation.

The following are fitted as standard:
- heat exchanger;
- early mandrel extraction;
- automatic mandrel lubrication.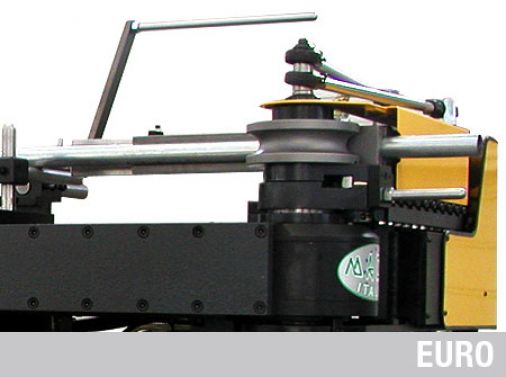 | | |
| --- | --- |
| Model | EURO 45 CN1 |
| Axes | 1 axis (Y) |
| Tube movement | Bending |
| Diameter of tube to be bent | Up to 45 mm |
Data sheet
| | | |
| --- | --- | --- |
| FEATURES | U.M. | EURO |
| Y Max. bendind speed | °/1" | 150 |
| Y Tolerance | +/- ° | 0.1 |
| Weight | +/- Kg | 3200 |
| | | |
| --- | --- | --- |
| BENDING CAPACITIES | U.M. | EURO |
| Round Tube R=42 kg/mm2 | mm | 45x4 |
| Round stainless steel tube | mm | 40x3 |
| Round tube Alum. Brass Copper Alloys | mm | 45x5 |
| Square tube R=42 kg/mm2 | mm | 40x40x2 |
| Rect. tube bent easy way | mm | 30x45x2 |
| Rect. tube bent hard way | mm | 40x35x2 |
| Round bar R=42 kg/mm2 | mm | 30 |
| Square solid R=42 kg/mm2 | mm | 25x25 |
| Mandrel extraction stroke | mm | 60 |
| Max bending angle | ° | 195 |
| Working length | mm | 3450 |
| Machine extensions | mm | 1540 |