Data
PROFAST 65 CN3
Tube bending machines PROFAST 65 CN3
The PROFAST 65 CN3 (Series 65) is a fully automatic, 3 axes tube bending machine: bending (Y axis), advancement (X axis) and rotation (Z axis). The PROFAST 65 CN3 can bend tubes up to 65 mm in diameter.

The following are fitted as standard:
- heat exchanger;
- early mandrel extraction;
- automatic mandrel lubrication.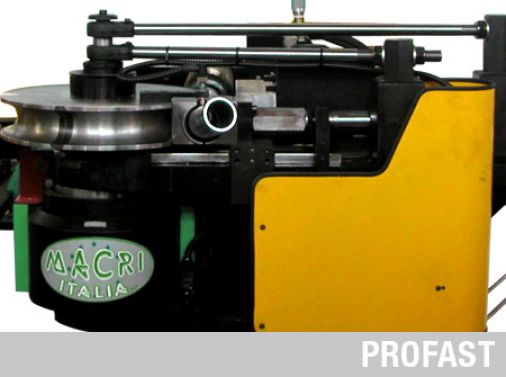 Model
PROFAST 65 CN3
Axes
3 axes (Y, X and Z)
Tube movement
- Bending (Y axis)
- Advancement (X axis)
- Rotation (Z axis)
Diameter of tube to be bent
Up to 65 mm
Data sheet
| | | |
| --- | --- | --- |
| FEATURES | U.M. | PROFAST |
| Y Max. bending speed | °/1" | 80 |
| Y Tolerance | +/- ° | 0.1 |
| X Max. traverse speed | mm 1" | 650 |
| X Tolerance | +/- mm | 0.1 |
| Z Max. gripper rotation speed | °/1" | 360 |
| Z Tolerance | +/- ° | 0.1 |
| Weight | +/- Kg | 4500 |
| | | |
| --- | --- | --- |
| BENDING CAPACITIES | U.M. | PROFAST |
| Round tube R=42 kg/mm2 | mm | 65x4 |
| Round stainless steel tube | mm | 60x3 |
| Round tube Alum. Brass Copper Alloys | mm | 65x5 |
| Square tube R=42 kg/mm2 | mm | 50x50x2 |
| Rect. tube bent easy way | mm | 30x60x2 |
| Rect. tube bent hard way | mm | 40x55x2 |
| Round bar R=42 kg/mm2 | mm | 35 |
| Square solid R=42 kg/mm2 | mm | 30x30 |
| Mandrel extraction stroke | mm | 80 |
| Max bending angle | ° | 195 |
| Working length | mm | 3600 |
| Machine extensions | mm | 1560 |
Photo